We loaded up on a fresh breakfast at the hotel before venturing to the Columbus Zoo and Aquarium, which—according to Megan—is regularly among the top-ranked zoos in the country. And, as home to more than 577 species and 10,000 different animals, creatures and living organisms, as well as famous wildlife conservationist and animal expert, Jack Hanna, it's no surprise why.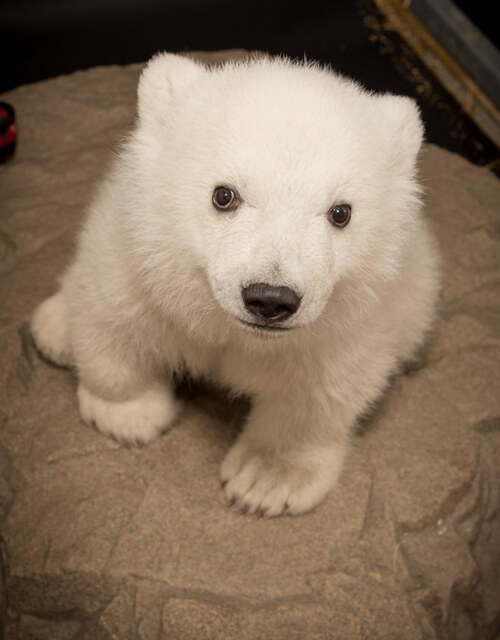 "Oh look, the zoo just tweeted a picture of their new baby polar bear, Nora," Megan said, eagerly holding up her smartphone for us to see. The tweet said that Nora is on display for visitors, and we were all excited to see her. We made it our very first stop and it was the perfect way to start the day—she looked like an adorable white puff of cotton candy, happily running around her habitat, even jumping into the water for a swim.
"What a cutie," Jane laughed.

We decided to check out the Heart of Africa exhibit at the zoo next. Upon entering, it felt as though we'd been transported into the exhibit's namesake, since it spanned a massive 43 acres and offered insight into the lives and habitats of 150 different animals. Lions roamed a recreated savanna. I rode a camel and Bryan even got to feed a baby giraffe up close.
"Get a picture, Meg," he whispered as he held out his hand to the giraffe.
We made our way through the zoo's different regions. We even met Hank—the largest elephant in any North American zoo, weighing in at seven tons—in the zoo's Asia Quest region.
Then, at Pirate Island, we followed a less-than-treacherous crew of eco-friendly pirates as they sailed past a cast of swash-buckling, singing, animatronic animal friends. In our time on the high seas (the exhibit was more like a ride, with motions and characters being activated at different points in the plotline), the pirates and animals let us know how we could all work to keep the world a beautiful place.
But the Columbus Zoo is more than just animals and an aquarium. To really glean the full experience, we would need another day. Singing yo-ho, yo-ho, a pirates life for me, we headed to the hotel.
Jump in
The next morning, we became fishes of our own when we traded our shorts for swimsuits and went to Zoombezi Bay, a 22-acre waterpark located on the same property as the zoo.
The park offered more than 15 water slides, a wave pool and even a lazy river.
A gigantic, blue-and-yellow striped funnel immediately caught my eye. It was the Cyclone, and our whole family could climb in a raft to shoot down it. Faster, faster, our raft raced until it shot into the funnel and down to the water.
The highlight of the afternoon was Python Plunge, which was an uphill waterslide of sorts—we were blasted uphill with water jets and then shot into a 70-foot landing pool. Bryan and Megan might have been younger than Jane and me, but those rides made me feel like a kid alongside them.
Still damp as we walked to the car, the mood was slightly somber. A few days of action-packed fun had been amazing, and we were all feeling a little reluctant to go back to our usual routine. Thinking fast, I posed a question sure to bring a smile back to everyone's faces.
"Hey guys, do you think we had more fun than Baxter?" I said.
"My apologies to Grandma," Megan said. "But, absolutely."